Songs of Tears and No Tears
The Tears Orchestra, established on January 24th, 2023, is a musical ensemble that comprises up to 120 highly-skilled tears. Its repertoire is a diverse amalgamation of renowned classical pieces, jazz standards, improvisational pieces, and original compositions crafted by the artists themselves.
The Tears Orchestra, led by conductor Lisa Zwinzscher, premiered on January 26th, 2023, as part of the Crying Institute at the Bauhaus University Weimar. The concert was pre-recorded and broadcasted digitally to reach a wider audience.
This performance marked a significant milestone for the Tears Orchestra, showcasing their impressive musicianship and the wide-ranging appeal of their repertoire. The decision to make the concert accessible online demonstrated the orchestra's commitment to engaging with diverse audiences and utilizing modern technology to expand their reach.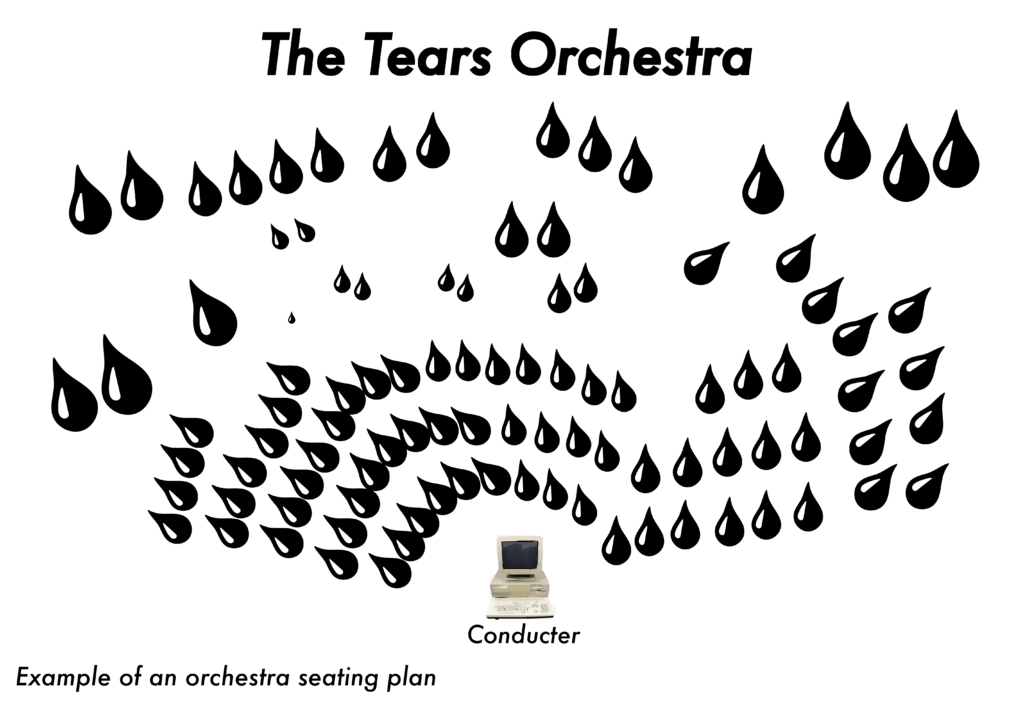 The success of this premiere performance bodes well for the future of the Tears Orchestra and its continued growth and development as an innovative and dynamic musical ensemble. With their passion for music and dedication to artistic excellence, the Tears Orchestra is poised to become a leading force in the world of contemporary classical and jazz music.
THE INTENTION OF THE CONDUCTOR
Lisa Zwinzscher: "I have found that tears can be used as a unique instrument, capable of evoking a range of emotions and telling a powerful story. By transforming crying into singing, I have discovered a new way of channeling and expressing my innermost feelings.
Tears are like an instrument that can be played to encourage dancing, playing, laughing, crying, cuddling, thinking, and even flying away. They are a symbol of hope, a reminder that even in the midst of sadness, there is still a glimmer of light that can guide us towards better times.
Music has the power to lift our spirits and provide a sense of comfort and support during difficult times. Scientific studies have even shown that singing can boost our mood and make us happier.
That is why I want to encourage you to turn your tears into music. When you feel like crying, let yourself sing instead. Allow the power of music to heal and uplift you, and let your tears become a beautiful melody that can inspire others to find hope and joy in life."
SETLIST
"How are you today ?" (Improvisation/warm up)
"Nocturne Opus 27 Nr. 1" (Frédéric Chopin)
"Sing my cry" (Crying woman feat string section)
"Intermezzi, Opus 117" (Johannes Brahms)
"Cry Me A River" (Arthur Hamilton)
LISTEN TO THE TEARS ORCHESTRA:
"Turn your tears into music"

Lisa Zwinzscher
SOME OF OUR TALENTED ARTISTS:
Thanks for listening!