We wish Ana Mendieta was still alive. A performative intervention to remember the Cuban-American artist Ana Mendieta.
"No one knows what truly happened on that late-summer morning in 1985. What remains unacceptable, however, is yet another example of a woman's career being defined by the relative success of her husband, of a female artist's legacy overshadowed by her tragic biography while her husband'swork remains relatively untouched by it" (1)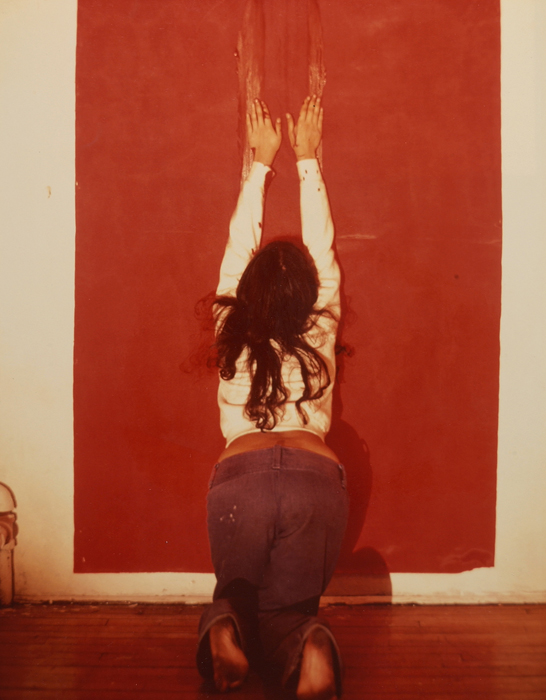 Ana Mendieta, Body Tracks, 1974 (2)
(In 1985 Ana fell to her death from her apartment in Greenwich Village, causing a stir in the art world. She had a tumultuous marriage to artist Carl Andre, who many believed was involved in her death. Despite lacking eyewitnesses, Andre was acquitted in 1988 after a three-year trial. The support that Andre received from individuals in the art world, who appeared to be more concerned with advancing his career and shielding him, was deeply surprising to many. Their apparent indifference to whether he had committed the murder left many in shock.)

Short note about Ana Mendieta (1948–1985)
. born in Cuba
. Mendieta moved to Iowa at the age of 12 along with her sister through a US government asylum initiative for young people following the Cuban revolution
. initially trained as a painter, changed to the university's newly established MFA in Intermedia program, where she began shaping her interdisciplinary art
. during her graduate studies, Mendieta initiated her first performances and photografic records (around the theme of violence against women, suffering experienced by the female body)
.throughout her career, Mendieta's explorations of representation were firmly rooted in an intersectional understanding of identity, where considerations of race, gender, age, and class coexisted. (7)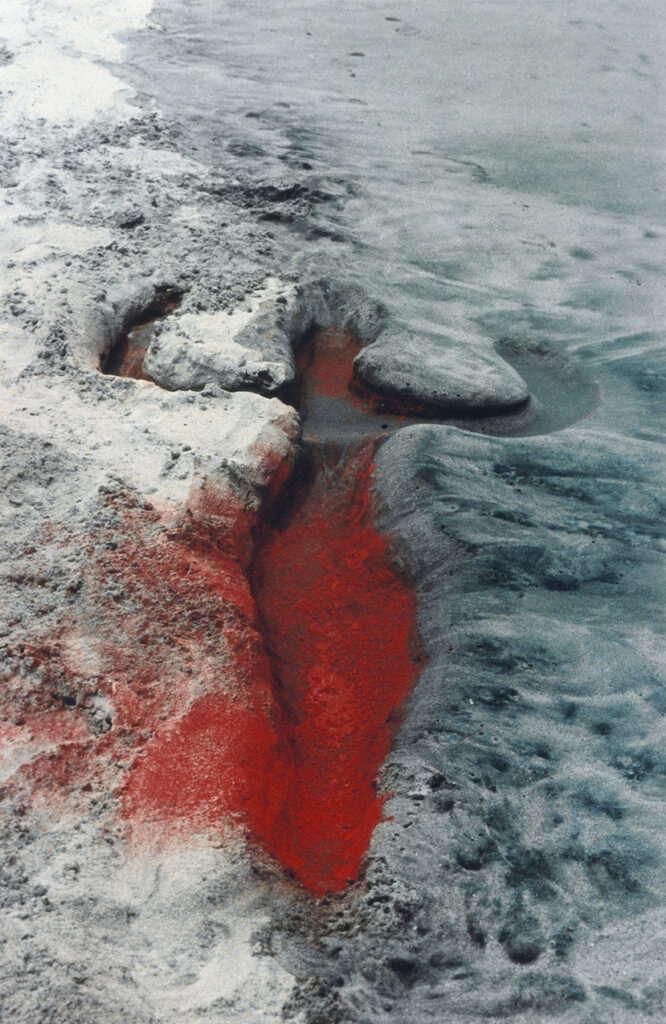 Ana Mendieta, Silueta series in Mexico, 1976 (3)
Intervention
Because Ana was not mentioned at her husbands large retrospective exhibition in New York, the collective called No Wave Performance Task Force ("[…] a flexible collective in New York that enables performative social sculpture, practicing Feminist construction rather than reacting solely to existing conditions of patriarchy, gender, sexuality […]"4) carried out a series of interventions at the exhibition venues Dia Foundation in Beacon and Chelsea.
These interventions aimed to rekindle a discussion about Mendieta by opposing her work with Andre's elegant geometric sculptures.
One of those interventions, mentioned before, was the following event in 2015: "CRYING; A PROTEST"
No Wave Performance Task Force, CRYING; A PROTEST, 2015 (5)
In this event fifteen feminist artists, poets, and activists gathered in the museum's galleries to mourn Ana Mendieta's memory. Their intense emotional reactions, in stark contrast to Andre's "refined" geometric art, likely seemed especially disruptive to other visitors and gallery staff.
"Crying is often seen as a sign of weakness, of emotional excess, and coded as feminine. As a group, though, our tears were seen as a disruption — a threat. Like much of Ana Mendieta's art, our performance was ephemeral." (2)
The feminist group effectively transformed the indifferent aestheticism of Andre's minimalism into an emotionally charged site of mourning instead of only grief. His geometric structures were repurposed as memorials to Mendieta.
Emotionality plays a significant role in Ana's works too. To remember her and keep her art alive, I want to show some more photos of her works: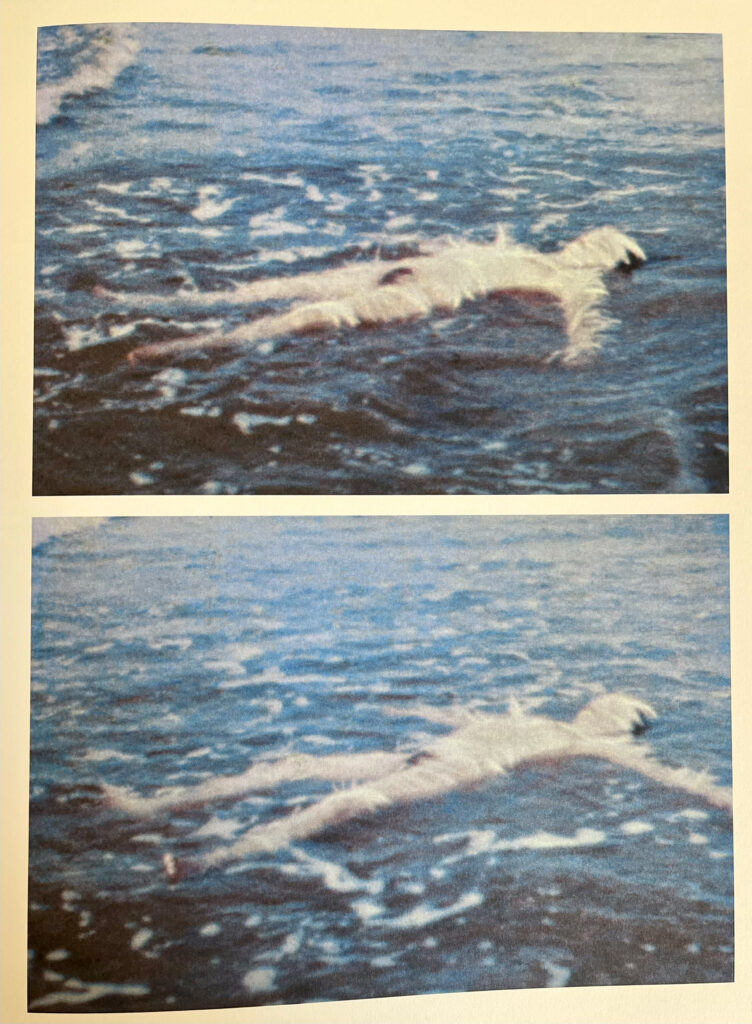 Ana Mendieta, Ocean Bird Wash Up, 1974 (6)
Ana Mendieta, Bird Transformation, 1972 (6)
Ana Mendieta, Blood and Feathers, 1974 (6)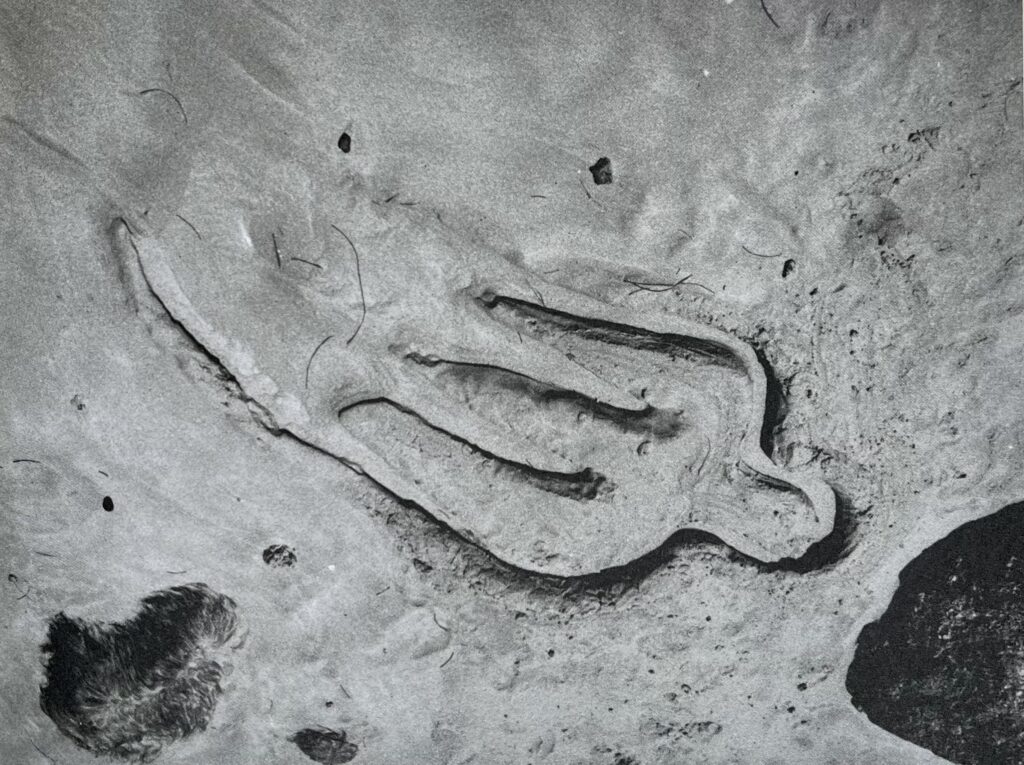 Ana Mendieta, untitled (Guanobo), 1981 (6)
References:
(1) A. Castro (2015). The Weeping Wall: The Mendieta Case. esse arts + opinions, 85 , pp. 76–78. https://www.erudit.org/fr/revues/esse/2015-n85-esse02064/78603ac.pdf [accessed 18.10.2023]
(2) Ana Mendieta (1974). Body Tracks. [colour photograph, 25 × 20 cm] https://artreview.com/ar-april-2018-feature-ana-mendieta/ [accessed 18.10.2023]
(3) Ana Mendieta (1976). Untitled from Silueta series in Mexico. [C-print on Kodak Professional paper] https://scma.smith.edu/blog/performed-invisibility-ana-mendietas-siluetas [accessed 18.10.2023]
(4) https://www.facebook.com/nowavetaskforce/ [accessed 18.10.2023]
(5) M. Crawford (2015). Crying for Ana Mendieta at the Carl Andre Retrospective. https://hyperallergic.com/189315/crying-for-ana-mendieta-at-the-carl-andre-retrospective/ [accessed 18.10.2023]
(6) S. Rosenthal (2014). Ana Mendieta – Traces. Hatje Cantz Verlag.
(7) A. Pucker. Z. Lukov. Ana Mendieta. Art In Common. https://www.artincommon.art/ana-mendieta-bbt [accessed 21.10.2023]